Available only for a limited time!
Trazza's Pomegranate Mint Hummus is a taste of spring itself, but just like spring, is only available for a few short months. A delicate blend of fruit and mint, this fresh hummus pairs nicely with fresh or roasted veggies, barbecue chicken or lamb. It's also delicious in a light sandwich wrap with a glass of mint-infused lemonade.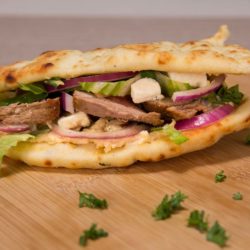 It's grilling season! Grilled fish, grilled chicken, grilled veggies, grilled steak… Is your mouth watering yet? How about a grilled steak sandwich with Trazza original hummus, red onions and feta cheese wrapped up in warm flat bread? Trust us, it's delicious!
READ MORE